Ah! I thought that would have you lot flocking. Tut, tut! Did you note the spelling?
Just one shade really (I am such a tease), namely Sally.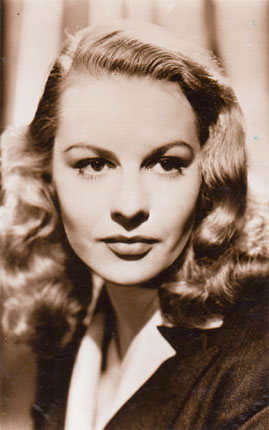 It's a strange thing that some minor films turn up major music and Miss Gray stars in just such a one on Friday. BBC2 12.40pm sees "Dangerous Moonlight" (1941) return to our
screens. Along with Anton Walbrook she stars in a romantic drama concerning the RAF during wartime and a dashing pilot/pianist.
Probably the most celebrated piece of film music to emerge from the nineteen forties, Richard Adinsell's "Warsaw Concerto" was being played long after the film itself was forgotten. If you dont know it here's your chance. It was very often heard on the radio in the fifties but I dont know when I heard it last.
There were also two other outstanding examples of the above, also in the forties which contain music especially memorable to me.
The first, a minor film "While I Live" (1947) spawned the marvellous Charles William's composition, The Dream Of Olwen" and then in 1949 another piece of romantic wartime hokum threw up the marvellous theme by Nino Rota for "The Glass Mountain.
It may be a cliché, but they really dont write 'em like that any more.